CRM Back Issues
A BACK ISSUE DVD IS NOW AVAILABLE FEATURING EVERY ISSUE OF CRM AND INCLUDES BONUS ISSUES OF ALL RAILFAN CANADA ISSUES.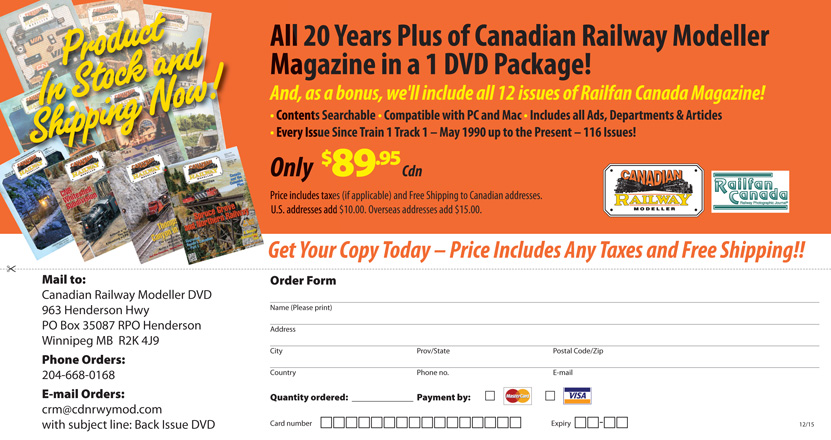 TO ORDER BY MAIL, PRINT OUT THE ORDER FORM AND MAIL TO THE ADDRESS ON THE FORM.
---------------------------
TO ORDER ONLINE, GO TO THE BOTTOM OF THIS PAGE
AND SIMPLY FILL OUT THE ORDER FORM!
Telephone Orders Accepted - (204) 668-0168
Get Yours for only $89.95 Cdn*
Includes any taxes and Free Shipping!
*Small additional cost for postage on U.S. and Overseas orders. Please refer to the display ad below.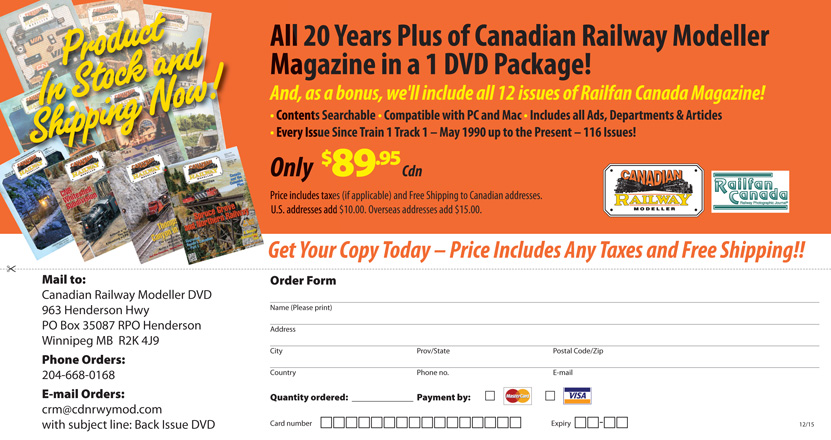 A limited number of back issues of CANADIAN RAILWAY MODELLER magazine are available at $12.00 each CDN (includes postage, handling and all applicable taxes). Add $3.00 each to a U.S. address. Add $6.00 each to an Overseas address.
Photocopies of SOLD OUT issues are available at $12.50 each CDN. Add $3.00 each to a U.S. address. Add $6.00 each to an Overseas address via surface mail; $9.00 per copy air mail, CDN.
We are now offering a 15% savings when you order 6 back issues or more at one time. These savings are to compensate for recent postal rate increases as we are able to ship packages weighing over 2kg at a small savings which we are able to pass on to you.
*NOTE: regarding shipping costs associated with getting our product to you:
Recently announced higher than usual Canada Post postal rate increases have forced us to increase our shipping costs. We agree that shipping costs are outrageous however we have no choice - we are forced to use CPC as our shipping agent because they ship to any and all legitimate addresses in Canada and around the world.
Some shipping costs on items can be adjusted according to the actual mailing costs. Costs are determined by weight.
Some original back issues are in very short supply.
-------------------------------------------
Simply click on the selection(s) of your choice, enter your name and address and method of payment on our order form and send it to our site.
All orders sent over the Internet will be confirmed by return e-mail - please be sure your e-mail address is correct on the form.

If you are uncomfortable with sending your credit card number over the net, please contact us by fax or mail.

OUR FAX NUMBER IS:
(204) 669-9821

OUR VOICE NUMBER IS:
(204) 668-0168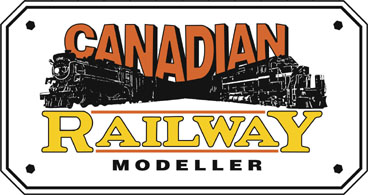 NOTE OUR NEW MAILING ADDRESS

OUR MAILING ADDRESS IS:

Canadian Railway Modeller Magazine,
963 Henderson Hwy
PO Box 35087 RPO Henderson
Winnipeg MB R2K 4J9
GST reg#: RT126683333

Back Issue orders can be sent by e-mail if this page is not working properly. Send your order to: crm@cdnrwymod.com or print out the page and send by fax to: (204) 669-9821.
---
[ Home | Latest Issue Cover | Subscribe to CRM | North Kildonan Publications ]
[ Order Back Issues of CRM | Christmas Cards | Postcards | Links | Merchandise List ]
---